Accepted is the 18th episode of Season 4 and the 95th episode of Good Luck Charlie overall.   
Plot
Teddy is disappointed when she is wait listed at her first choice for college.
Episode Summary
At the breakfast table, Bob tries to tell a joke to the family, but he continues to mess up and none of them express interest in hearing it, anyway. The only one who cares to listen to the joke is Charlie, and although she doesn't understand it, she thinks it is funny. Later, Teddy gets an email from Yale saying that she is on the waitlist, thus frustrating her. After tricking his grandmother into giving him money for graduation (which is years away for him), Gabe buys an electric scooter, much to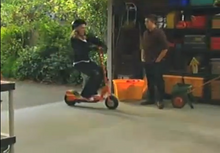 Amy's dismay. After Amy gets Gabe to let her try out the scooter, she becomes obsessed with riding it. Meanwhile, Charlie's teacher asks Bob to deomonstrate jokes at the Little Dolphin Academy and Bob practices on PJ. Also, Teddy tries to get Victor to drop out of Yale and go to Harvard to open up a spot for her to get in. 
Cast
Guest cast
Trivia
Victor and Teddy will both be attending Yale together.
Goofs
Teddy says that she's only been to Super Adventure Land jail, however in Charlie is 2 she is in regular jail.
Gallery