The Duncans go to a Ski Resort that is the place where Amy and Bob married. Teddy meets a woman named Sarah that is a psychic, and Sarah tells Teddy that she will find "the love of her life" in the Ski Resort. Gabe starts to order things in the room service, then he realizes he can't pay the bill, so there are consequences.
Episode Summary
The Duncans go on a family road trip to a ski resort in the mountains. Teddy gets a reading from a psychic that she will meet the love of her life. Gabe abuses room service to get back at a bellhop (Steve Hytner) who used to be his teacher, PJ meets two sisters who take care of him after going on the wrong snowboarding trail. Bob and Amy find out they are not actually married because the judge who married them was a con artist.
End Credits
Scenes from the next two-part episode of Good Luck Charlie.
Gallery
The image gallery for Snow Show, Part One.
Memorable Quotes
The "talk" is mentioned in the first very beginning.
Background Information
This is the only episode so far that Teddy didn't do her video diary (this is because she only does her video diaries at the end of each episode, and apparently, this is a two-part episode).
This episode is also known as 'Love is in the Air'
It is revealed that Amy's maiden name is Blankenhooper.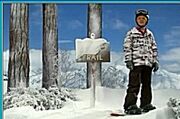 Goofs
When PJ is carrying the snowboard to cover himself up due to him appearing to be naked behind the snowboard, he is shown to be running off to his hotel room. Of course, his butt wasn't covered up; but you could tell he had red flowery briefs on.
When Gabe was tossing the salad, you could see eggs and peppers and corn in it but he didn't put any in and didn't have any on the cart.

When PJ hits the sign that says "not a trail" his pants were black, but the video of a snowboarder falling (who is supposed to be PJ) shows the pants were yellow.
Production Information
International Premieres
May 30, 2012 (Disney Channel Poland)
Continuity
This is the second time that a Duncan is asked if Gabe is too old. (Study Date)
Cast
Guest Stars
Chris Warren Jr. as Justin
Meagan Fay as Claire
Gabriel Tigerman as Will
Brittany Ross as Katie
Katelyn Pacitto as Sarah
Jordan Lund as Jeremiah
References
Community content is available under
CC-BY-SA
unless otherwise noted.