Still on their family ski trip, Teddy asks Ivy to come meet her so the two of them can sort out the psychic's vision of who Teddy's true love is. When Spencer reveals that he wants Teddy back, she must decide if he is the one, or if they should just stay friends. Meanwhile, Gabe and PJ enter a pairs ice skating competition to win prize money to pay back each of their personal debts and Bob tries to make up with Amy by planning a surprise wedding![1]
Episode Summary
Gabe has to pay off the room service and PJ owes some money to a kid named Walker (Davis Cleveland), whom he met on the ski lift, so they enter an ice skating contest. Teddy does not know who to pick of the three guys she meets, so asks Ivy to meet her at the lodge to help her decide. Spencer tries to win Teddy back, which results in him kissing Teddy on the ski lift. Amy and Bob struggle after Bob doesn't want to get married again while on vacation. Teddy tells Spencer she wants to just be friends, after Amy and Bob renew their vows.
End Credits
In the end credits, Ivy is shown going up in the ski lift with Walker. When he insults her skiing, like he did with PJ, she threatened that she could flick him like a booger off the lift.
Then, it shows Spencer with a strange woman on the lift. She says a psychic told her she'd meet the love of her life on her trip there, as the same psychic told Teddy the same thing.
Finally, it shows Charlie and the Unnamed Toddler on the lift in baby booster seats. When Charlie asks if his family had money, like Ivy did to Justin, he replied that he doesn't know what money is.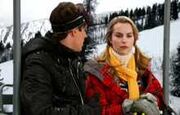 Gallery
Running Gags
Good Luck, Charlie
Memorable Quotes
Gabe: PJ!
Gabe and PJ: I need to borrow some money! What did you say?! I need to borrow some money! Stop that!
Charlie: Does your family have money?
Maxwell: I don't even know what money is.
Background Information
Production Information
International Premieres
May 14, 2011 (Disney Channel Poland)
Continuity
Allusions
Cast
Guest Stars
References